Articles  : Avr. 2022 – Mar. 2022 – Fev. 2022 – Jan. 2022 – Facebook : https://www.facebook.com/ORTF-News-107572991571884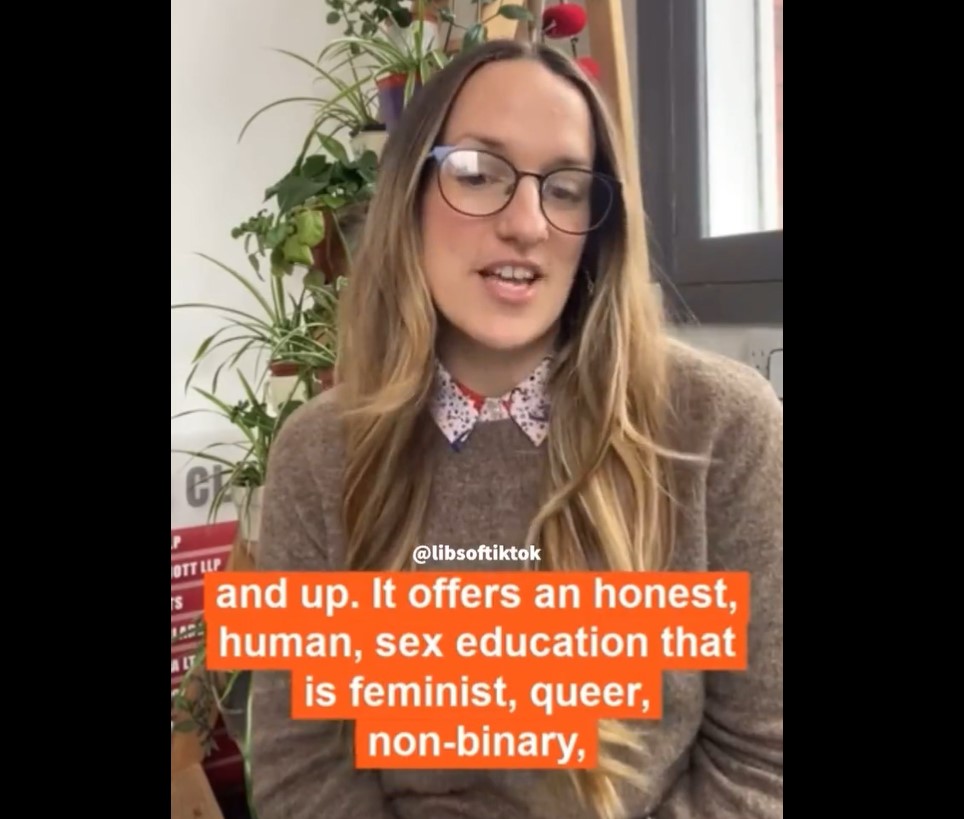 A theater in the UK is advertising a "Family Sex Show." They want parents to come with their little kids to learn all about sex, porn, masturbation, etc. They also advertise there will be full nudity. This is absolutely disgusting. pic.twitter.com/cC3bNToBV9

— Libs of Tik Tok (@libsoftiktok) April 8, 2022
Une troupe de théâtre a suscité la colère en mettant en scène des corps nus dans un spectacle explorant "l'amour, la sexualité et le plaisir sexuel", et destiné aux enfants dès l'âge de cinq ans.
Les producteurs de The Family Sex Show affirment qu'il s'agit d'un spectacle pour les familles sur le sexe et les relations, les parents étant encouragés à amener leurs enfants.
Le site web le décrit comme "un spectacle amusant et stupide sur le sujet douloureusement embarrassant du sexe, explorant les noms et les fonctions, les limites, le consentement, le plaisir, l'homosexualité, le sexe, le genre et les relations".
Il poursuit : En utilisant des corps réels, des histoires personnelles, des chansons et des mouvements, The Family Sex Show met les bonnes choses au premier plan de la conversation et imagine un avenir où il n'y a pas de honte, mais une célébration de la différence, de l'égalité et de la libération".
Mais le spectacle a suscité l'indignation de parents qui envisagent de protester devant le Théâtre Royal de Bath lors de sa première le mois prochain.
La réaction a commencé sur le site Mumsnet après qu'un utilisateur appelé Matthew Taylor posta : "Ce spectacle est destiné aux enfants de cinq ans et plus. Les artistes sont nus. La discussion avec les enfants porte sur le sexe, la sexualité et le plaisir sexuel.
Je ne peux pas imaginer emmener un enfant de cinq ans dans un théâtre où des gens vont lui parler de sexe et lui montrer leur corps nu. Suis-je la seule à être folle ?
Une mère de famille de 30 ans, qui a contacté Mailonline au sujet du spectacle, a déclaré : "Si cela s'adressait à des adolescents, je n'y verrais aucune objection, mais si cela s'adresse à des enfants de cinq ans, c'est totalement inacceptable.[…]
Sa collègue Allie, responsable de la programmation et de l'engagement au Tobacco Factory Theatres, a ajouté : "Family Sex Show est un spectacle amusant et ludique pour les adultes et les enfants de cinq ans et plus. Il offre une éducation sexuelle honnête, humaine, féministe, queer, non-binaire, inclusive et positive.
Ce spectacle peut permettre aux spectateurs de tous âges de se sentir en confiance par rapport à leur corps, leurs limites et leur santé sexuelle".
So you want to support my 5yo in her sexual development by making a non-binary, sex-positive show with full frontal nudity that "uses pleasure as a vehicle for consent".

Have to say you aren't reassuring me here https://t.co/8lJ8nlCUcj pic.twitter.com/y5WdaoMMwR

— Mary Harrington (@moveincircles) April 9, 2022
According to @ThisEgg_ 5 year olds need to know the meaning of dildo, cum, pegging, frottage amongst other things. What the f**k happened to safeguarding? Their glossary in full:https://t.co/JGxlmUFSPp pic.twitter.com/gdTRuQubCE

— Vicky Miller🦕🦖🟩⬜️🟪🦖🦕 (@VickyMiller74) April 9, 2022
https://twitter.com/VickyMiller74?ref_src=twsrc%5Etfw%7Ctwcamp%5Etweetembed%7Ctwterm%5E1512785882289426433%7Ctwgr%5E%7Ctwcon%5Es2_&ref_url=https%3A%2F%2Fwww.fdesouche.com%2F2022%2F04%2F10%2Froyaume-uni-polemique-sur-une-troupe-de-theatre-queer-subventionnee-par-le-contribuable-qui-explique-aux-enfants-de-5-ans-le-plaisir-sexuel-les-godes-le-pegging-le-frottage-avec-des-acteurs-nus%2F
This is not the sort of play party that any 5 year old need know about.. pic.twitter.com/AIj3aLhZdu

— Vicky Miller🦕🦖🟩⬜️🟪🦖🦕 (@VickyMiller74) April 9, 2022
Obviously these theatres don't understand child safeguarding 🤬 pic.twitter.com/6LZrfWHndz

— Vicky Miller🦕🦖🟩⬜️🟪🦖🦕 (@VickyMiller74) April 9, 2022
Ecoutez DJMusic.fr